All you'll need is a pumpkin
I am a little late coming to an appreciation for pumpkins. For most of my life, the only role pumpkin played in my culinary landscape was as filling for the occasional pie. For one thing, I don't typically like pie. And pumpkin pie did nothing to change my mind. Which means pumpkin was pretty much a non-event in my kitchen.
Things began to change when I discovered a pumpkin muffin recipe in Gourmet. It was about Thanksgiving and I was looking for recipes to feed the family. The muffins turned out to be a hit and for several years, they have been a part of our Saturday morning routine once autumn rolls around.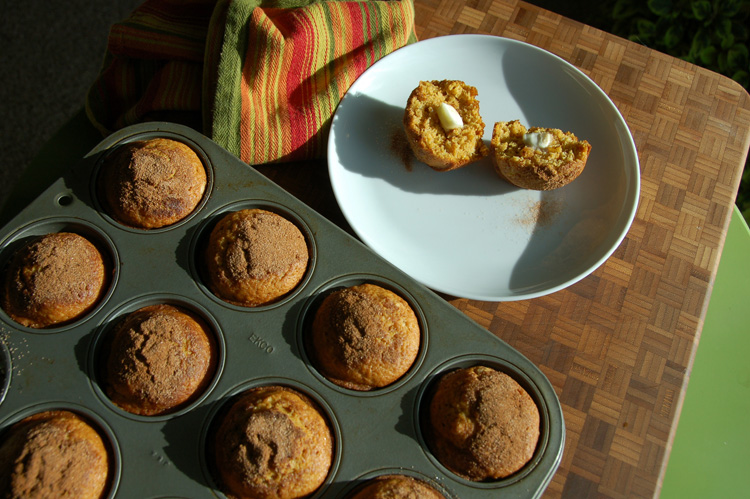 This year things started innocently enough out in the garden. I had a wild idea to plant a little pumpkin for my son. In order to conserve space and accomodate for his size, I picked a miniature variety. We spent the summer noting its progress in the back corner of the garden. And when fall arrived, we happily harvested 10 small pumpkins. There is something about a garden that gives me extra motivation to make sure nothing is wasted, so this year, I've been looking for new ways to use up our little pumpkin collection. So far we've had a couple of successful curries, but it was the most recent stuffed pumpkin that really stole the show.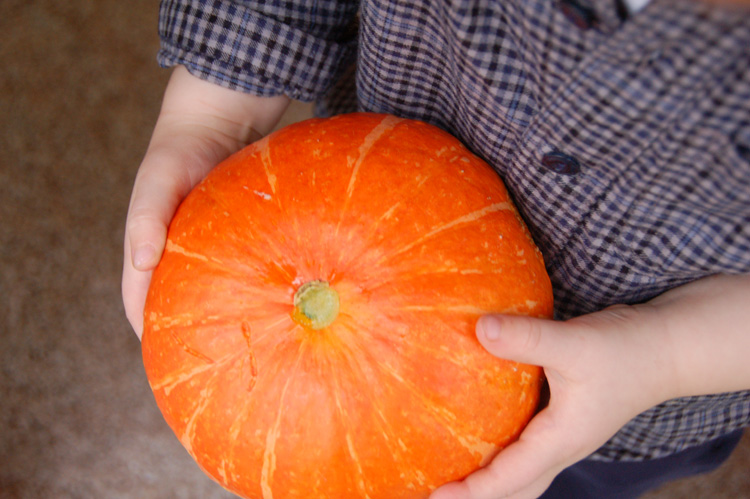 Some time ago, I tasted the remaining bits of a very delicious roasted pumpkin, stuffed full of goodness, at a work party. The recipe had come from Ruth Reichl and left me thinking about opportunities where I might make it myself. But opportunities to actually serve a 10-pound pumpkin seem to be few and far between in my kitchen. But enter the mini pumpkins from the garden and Dorie's gentle reminder with another stuffed pumpkin recipe in her splendid cookbook and suddenly, stuffed pumpkin looked like it could be a reality.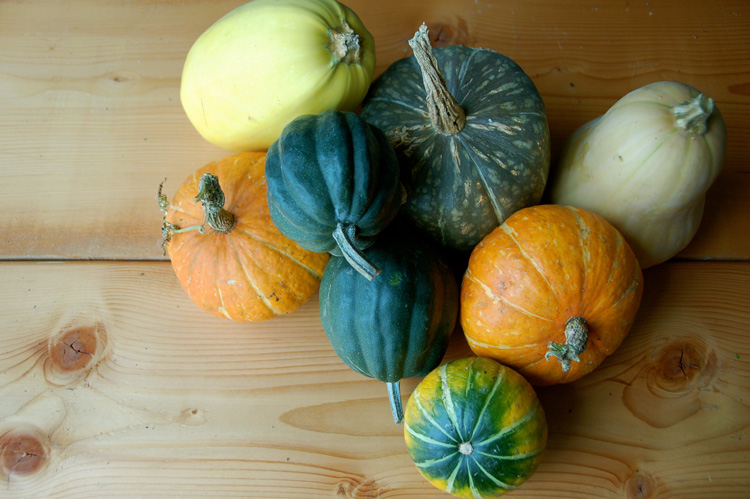 While a recipe might seem like a good idea, in my experience, it is all about the size of the pumpkin. Roughly, a pound of pumpkin is going to be enough for one person. And while I haven't tested it out, I'd be willing to bet that this would work equally well with squash as well. So, here are some ideas to get you started.
To prepare the pumpkin, wash it and carefully cut out the top, much like you would if you were carving a jack o'lantern. Clean out the seeds, saving them for another tasty treat, if you feel inspired.
I stuffed my pumpkin with bits of leftover baguette, small cubes of Gruyere cheese, a shower of snipped chives from the garden, along with a little thyme and freshly ground black pepper. The magic ingredient was likely the cream. Once the filling was prepared and stuffed into the pumpkin, I began to pour it on. Mixed with a little freshly grated nutmeg and salt, the cream softens the baguette and bakes into a savory little fondue of sorts.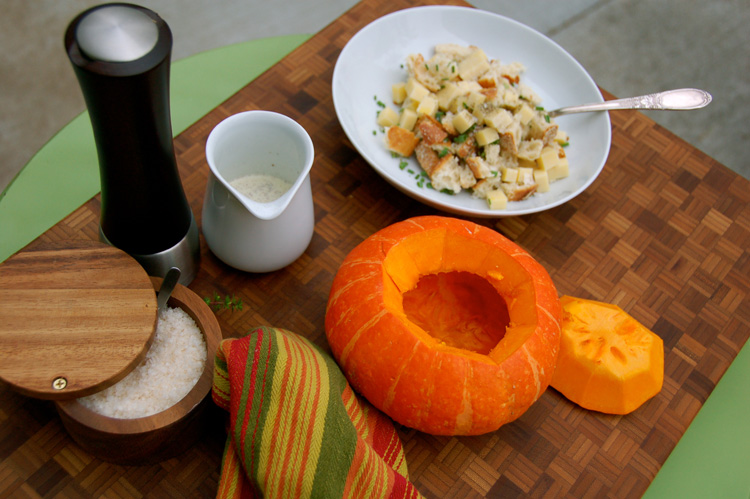 There are endless possibilities for other additions. Top of my list would likely be a little bacon. But I wouldn't be shy about trying different cheeses and herbs, either. Once you've chosen your ingredients and filled the pumpkin, pop the pumpkin lid on and slip it into the oven. I cooked my small pumpkin on a baking sheet, covered with a little parchment paper. A bigger pumpkin may require a little more support from a baking dish as it softens. I cooked mine for about 90 minutes in a 350 oven, checking for doneness with a skewer once I got past the one hour mark. A few minutes to rest and cool, and you've got a perfect fall dinner.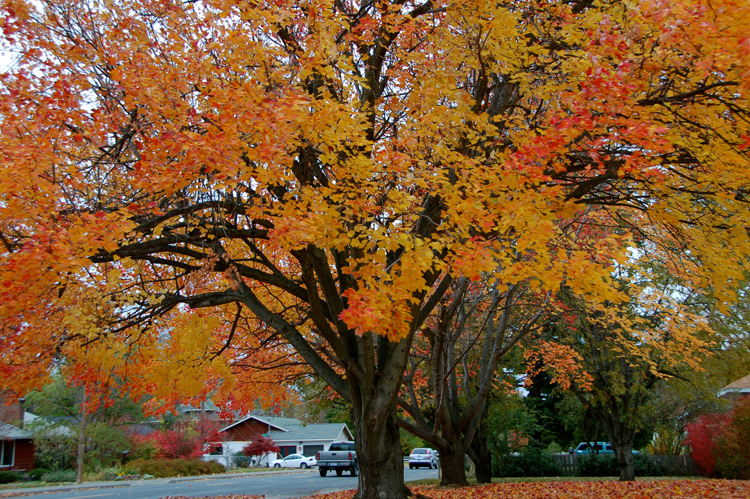 If that's not enough to get you excited about pumpkin, here are some other links I'm working up the courage to try:
In the meantime, you'll find me out crunching in the leaves and dreaming about the tasty treats roasting away in the oven…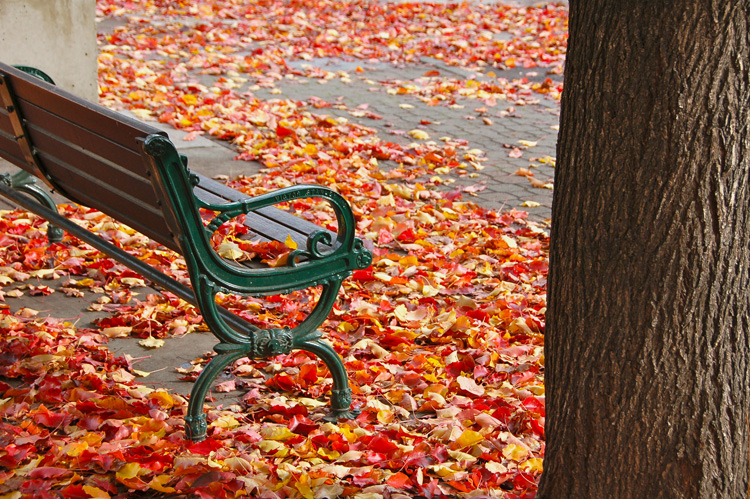 Around My French Table, cooking, dinner, fall, pumpkin