Just in Time – Pots de Cremé
As it turns out, I am not sure how much of a winter we are going to get. But instead of sniffling about it, I set out to do something. It was a pack up the car on Saturday morning type of do something! It involved snacks and snowshoes and a lot of winter layers. But before too long, we were headed for the mountains for a little winter fun. We haven't been snowshoeing nearly as much as I would like this year, so it was high time for a little trek through the snow. The weather was simply beautiful after a few days of fog down in the valley. If I had my way, I'd probably hole up in a snowbound winter cottage and be perfectly content, at least for a few months!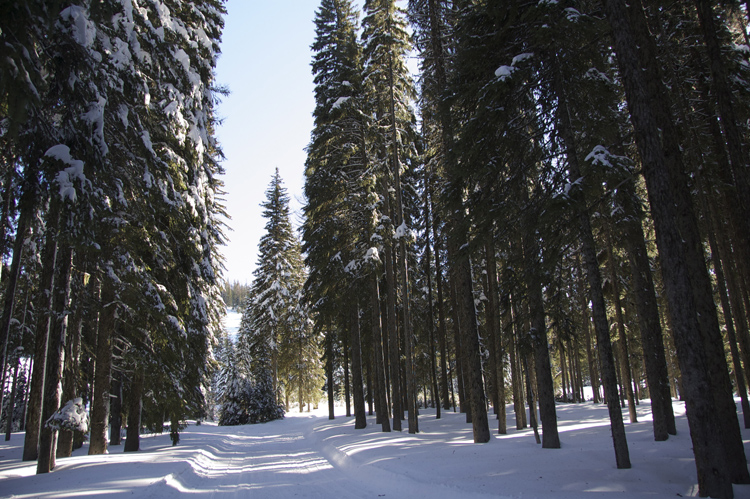 So, I've been thinking a little about Valentine these days. Not so much because I am the hearts and flower type, but just because everyone can use a little something to look forward to in February. And the opportunity to plan a nice little meal is something I relish. So, here I am to share!
While dinner with the two-year-old who will be joining us could hardly be called a quiet affair, I do count on it being a good time. And since Valentines will be on a weeknight this year, elaborate feasts are not really in the cards for me. But the one thing that I will go out of my way for will be dessert. Doesn't a nice finish to a meal make it that much more special?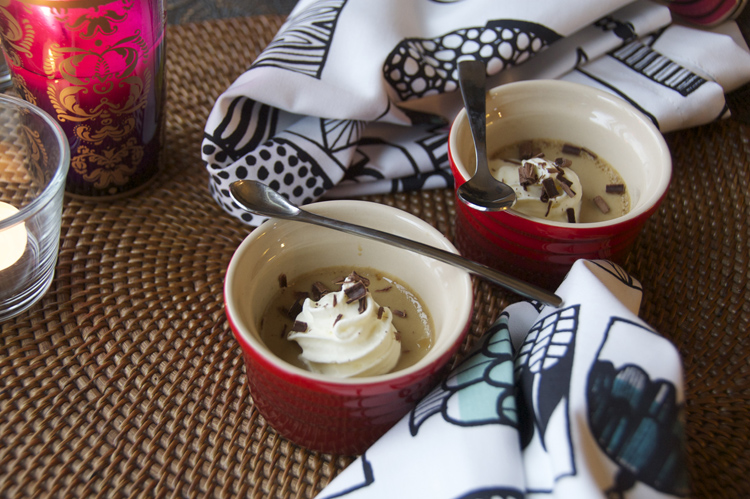 A few years back, I had my first real introduction to the dessert called pots de cremé via Orangette. And while chocolate seems to be the go-to flavor for this little dish of deliciousness, I've never been able to tear myself away from the caramely goodness of this recipe. Honestly, I have a small collection of recipes for chocolate, espresso and other varieties that have gone untried. But now that I am back in the swing of the ease of these desserts, maybe I'll be willing to give it a try.
It may sound fiddly, but I think this is one dessert that will actually work pretty nicely into a weeknight meal. And whether you give it a shot for Valentines or not, it is a handy sweet to have in your repertoire. See, it's cooked in individual portions and better still, I think it keeps really well for a day or two in the fridge. Which could mean dessert for a few nights, already perfectly portioned and chilling in your refrigerator. Need I say more?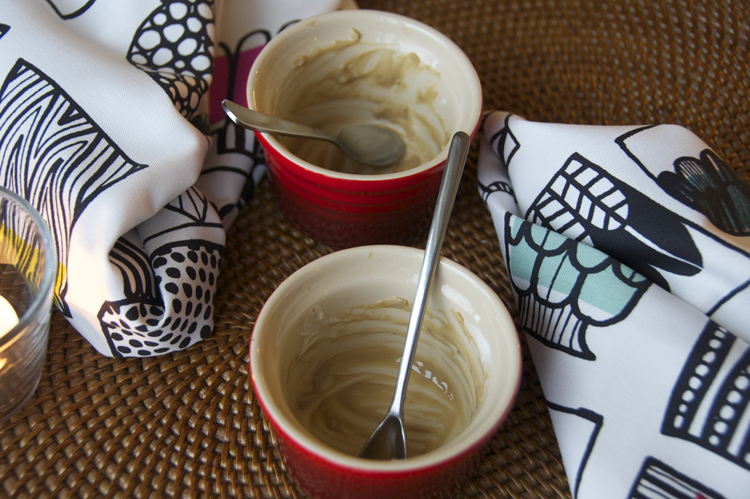 Butterscotch Pots de Cremé
Adapted from Gourmet, October 2003
Makes about 6 servings, depending on your portions.
Here are a few ideas that might help you pull this recipe off with a little more ease, depending on your schedule. If you like, you can prepare the custard base and store it in the fridge overnight. Then, next day, pull it out of the fridge to warm a little before filling your ramekins and scooting them into the oven. They will just take a little longer to cook. Or, if you're a little more adventurous, make them the night before. Seal each container carefully with plastic wrap and store in the fridge. Depending on your preference, allow to warm a little or serve chilled.
1 1/2 cups heavy cream (or if you want to go a little lighter, try 1 cup of cream with 1/2 cup whole milk)
6 tablespoons dark muscovado sugar *
1/4 teaspoon salt
6 tablespoons water
2 tablespoons Demerara sugar*
4 large egg yolks
1/2 teaspoon vanilla
Heat oven to 300° F, adjusting the rack to sit in the middle of the oven. Select ramekins or dishes for cooking and line a baking dish with a thin tea towel or two.
Combine cream (and milk, if using), muscovado sugar, and salt in a small saucepan. Bring to a gentle simmer and stir until all of the sugar has dissolved. Set aside.
Heat water and Demerara sugar to a boil in a large saucepan over moderate heat. Continue to cook, stirring occasionally, until the sugar is dissolved. Allow the mixture to continue cooking until browned and bubbly, about 5 minutes. Remove from heat and add in the cream mixture, whisking until combined.
In a separate large bowl, whisk together the yolks and the vanilla. Gradually pour in the hot cream mixture, whisking all the while. Once combined, pour the custard through a fine sieve into a glass measure. Skim off any remaining foam. If you plan on cooking the custard later, allow the custard to cool a little before covering and refrigerating.
Pour the custard into the ramekins and cover each one with foil. Arrange the ramekins in a towel-lined baking dish with a little room between each of the cups. Place the pan in the oven, then gently pour enough hot tap water into the baking dish to reach about halfway up the ramekins. The custard should cook until it is set around the edges, but still jiggle slightly in the center, about 40 minutes. Use kitchen tongs to remove one ramekin from the pan to check it. If you opted to prepare the custard in advance, you'll have to cook it a bit longer.
Once cooked, lift the ramekins from their tray to a cooling rack, using kitchen tongs. Remove foil and allow to cool. The custard will continue to set as it cools. Serve warm or cool to room temperature before refrigerating.
* The muscavado and Demerara sugars are usually found in well-stocked grocery stores or can be purchased online.
The pots de cremé will be delicious as is. But if you want to fancy them up a little, you might try some of these ideas:
Whip cream and chocolate shavings
Fresh strawberries and whip cream
Speculoos cookies or gingersnaps
Either way, it's going to be tasty! Enjoy!
baking, dessert, Pots de cremé, Valentine