Handmade noodles with wild mushrooms & miso butter sauce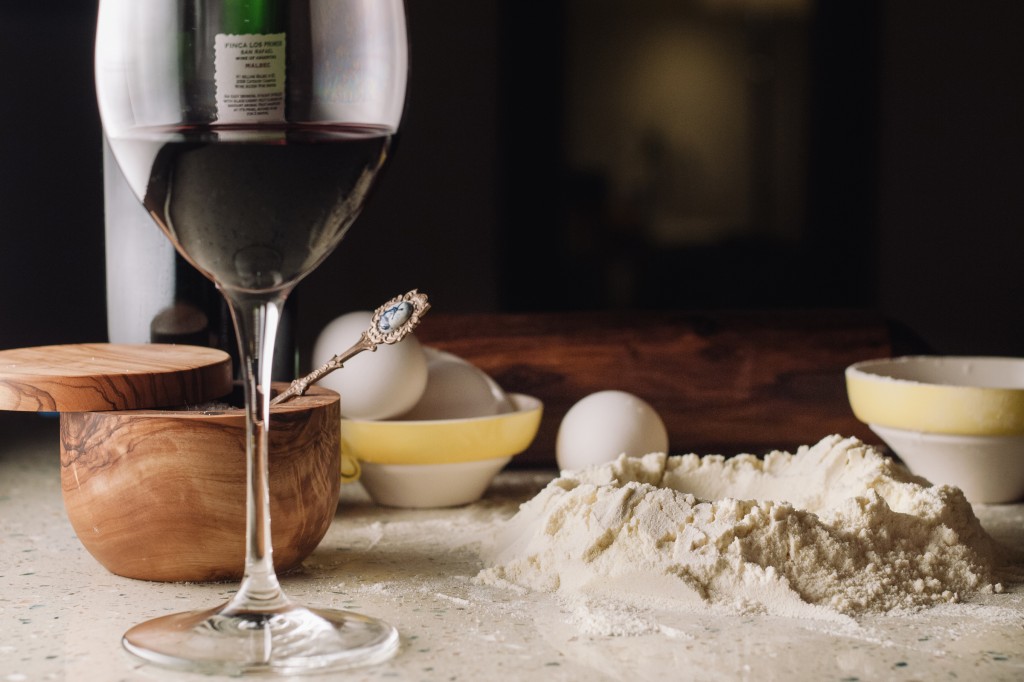 For Christmas this year I received a new rolling-pin. It is no ordinary rolling-pin, it is a balyunONE rolling-pin designed by Canadian designer Tahir Mahmood. I had been coveting this handmade, european style rolling-pin for some time, so naturally I was beyond delighted when I found it under the tree on Christmas morning! I have since been trying to devise the perfect way to christen my rolling-pin. But inspiration eluded me, all I could come up with was cookies or pie. Delicious as they may, be neither was what I was looking for. I was bemoaning this fact to Ginger the other night and she struck gold when she suggested that I should make noodles. Noodles, what a spectacular idea! I had never made my own pasta before and it was a challenge that I was up for.
I turned to google, my trusty source for all things I don't know and began reading about fresh pasta. This is where I ran into a little conflicting information. Who would have thought that I would find conflicting information on the internet! Some said "no" to hand rolled pasta, some said "yes, but it is a little tricky". And finally I found a recipe from Jamie Oliver and he seemed to give hand rolled pasta a whole-hearted "yes". I was in, if Jamie says it is ok, then I should be fine right?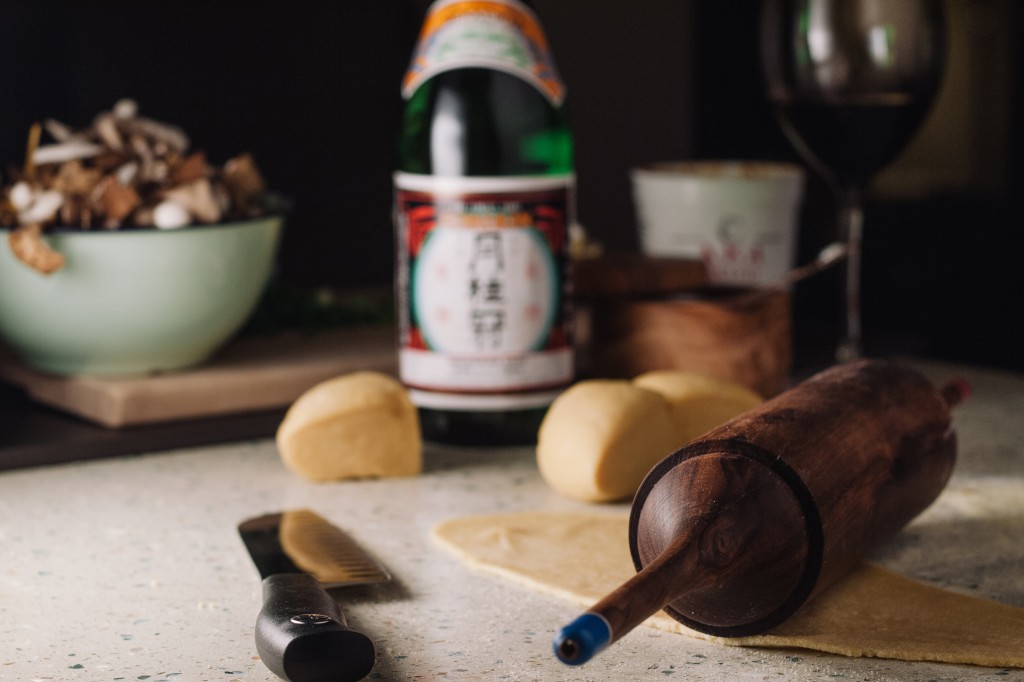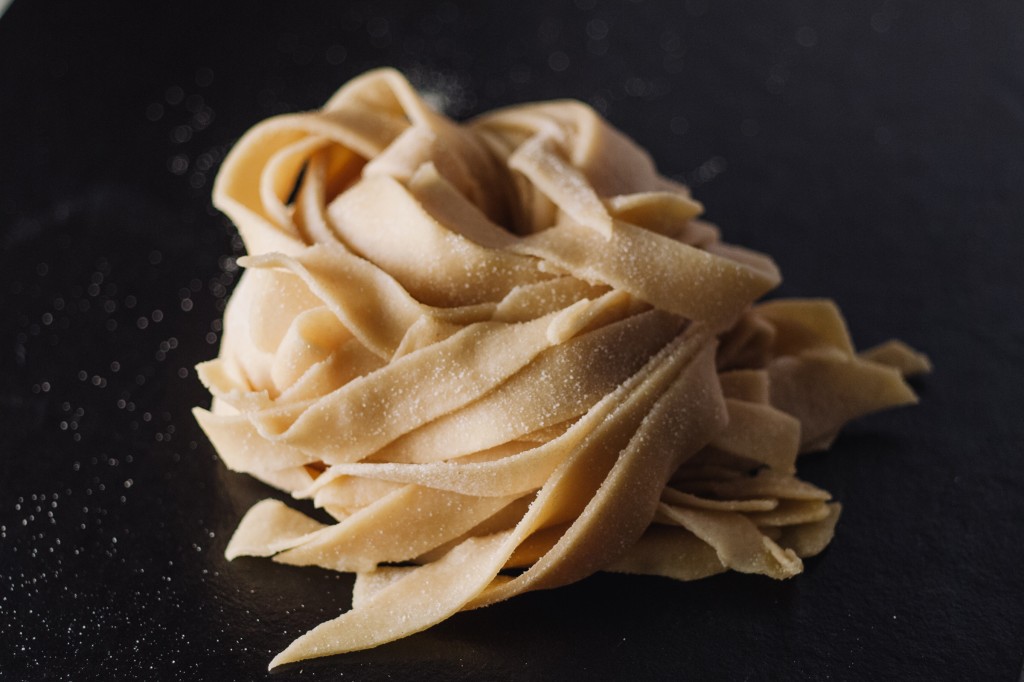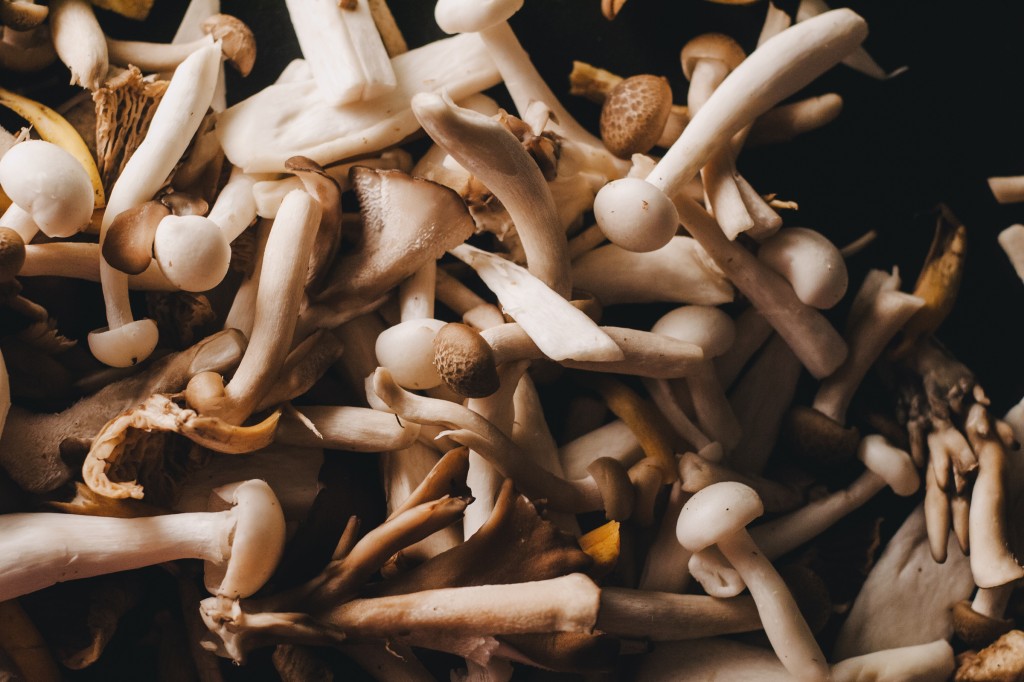 The noodle dish that I wanted to make is a dish inspired by a udon noodle dish featured on the menu of one of my favourite neighbourhood Japanese restaurants. The original is a luxurious combination of noodles and wild mushrooms, dredged in a sauce of miso and butter. For my version, I decided to give the recipe a little italian flare, replacing the udon noodles with fresh pasta. Let's get back to the making of the pasta, as it is a bit of a tragic tale that needs to be shared so that no one else makes the same mistakes as I. So pasta dough, simple right? A little flour, some salt and a few eggs. It was easy, it mixed up nicely and after a little kneading, turning into a lovely smooth dough. I slipped it into the fridge and prepped up my sauce ingredients. Here is the tricky part, some people think a machine is a necessity if you want to get the pasta to a nice thinness, others like Jamie say that all the old Italian grandmas never use pasta machines, so with a little extra elbow grease, it can be done. I forged on, rolling my pasta to what I thought was a lovely thinness, cutting into wide noodles, sprinkling with semolina and repeating. Easy peasy. Perhaps I should have realized that it was just a little too easy.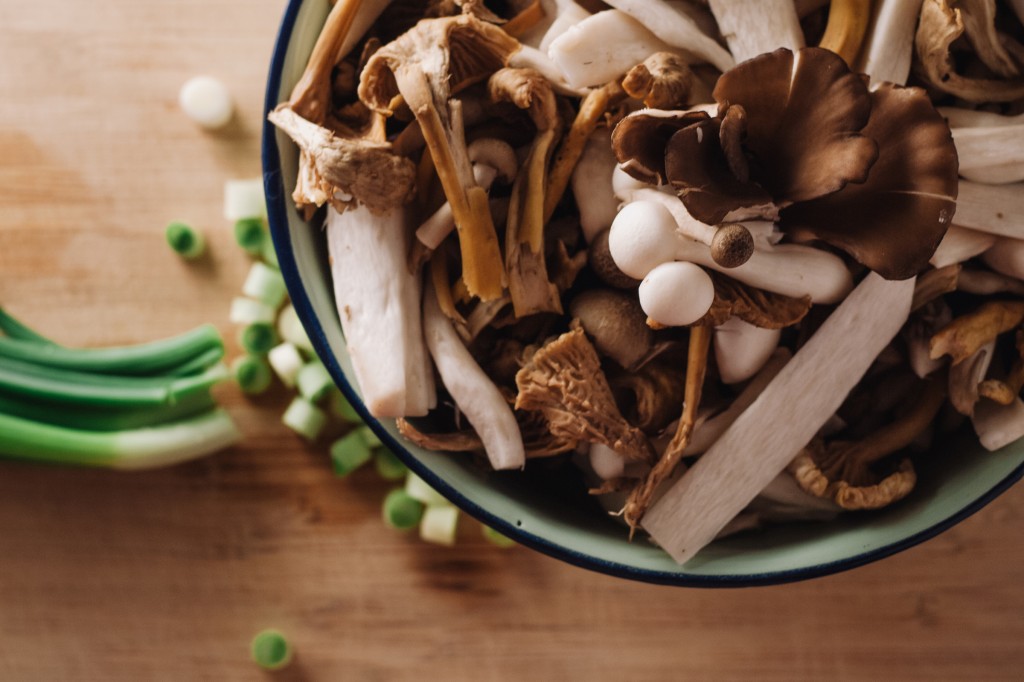 I started my pasta water to boil, sautéed my garlic and mushrooms, things were going along just tickety boo. Calamity struck when I dropped the noodles into boiling salted water and virtually immediately the noodles doubled in width and thickness! Seriously what the heck  is up with that. No one mentioned anything about the noodles "rising"! Be warned, the noodles rise. When all is said and done, I think that with a little more practice and finesse, hand rolled noodles aren't that big of a stretch, they just take a little patience.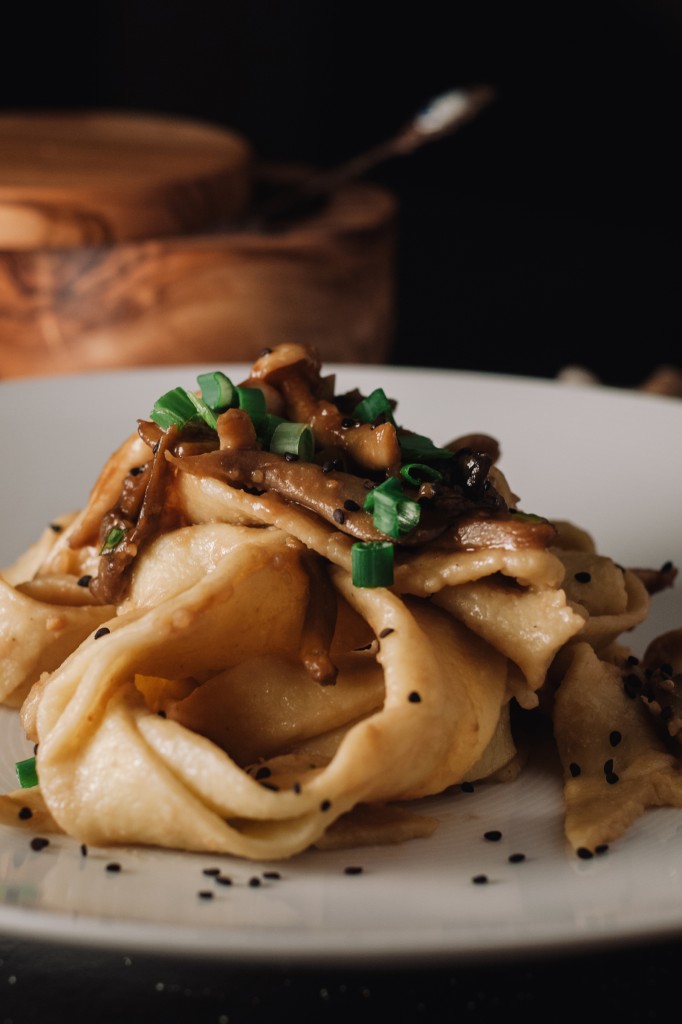 Handmade noodles with wild mushrooms & miso butter sauce
Serves 4
For the noodles:
1 cup all purpose flour
1 cup semolina flour
3 eggs
1/4 teaspoon salt
For the sauce:
2 cloves garlic
8-12 oz wild mushrooms sliced (I used a blend of Chanterelle, Brown hon shimeji, white hon shimeji, baby blue oyster, hen of the woods, king erengi and nameko mushrooms)
3 tablespoons butter
3 green onions, sliced, whites and greens separated
3 tablespoons miso paste
1 1/2 tablespoons sake
1 1/2 tablespoons soya sauce
1 teaspoon oyster sauce
1 tablespoon toasted black sesame seeds for garnish
Preparing the pasta:
On a clean workspace, mix together the two flours and salt forming into a mound. Make a well in the centre of the mound and crack the three eggs into the well. Whisk the eggs lightly with a fork and then begin mixing the mixture together with your hands. Once the dough comes together, knead for 10 to 15 minutes until you have a nice smooth dough. Shape the kneaded dough into a dish, cover completely with plastic wrap and allow dough to rest in the fridge for at least 1 hour. *Most recipes don't recommend letting it rest overnight as it can turn a grey colour.
Cut the disk of dough into 4 pieces, as it is easier to work with in smaller amounts. Lightly dust a work surface with semolina flour and begin to roll out the dough. Roll the dough out as thinly as possible, mine was about 3 mm thick and it would have been better if it had been about  1-2 mm thick. Use a knife to cut the pasta into your desired noodle shape. Set finished noodles aside and sprinkle with more semolina to avoid sticking. Continue rolling and cutting pasta. Cover the finished pasta with a damp towel to avoid drying.
Preparing the sauce:
Cook the noodles in boiling salted water until al dente. The cooking time will depend on the thickness of your noodles, so check for doneness often.
Heat a medium sauce pan over medium heat, once the pan is hot melt the butter. Add the garlic and the whites from the green onions to the pan and sauté for about 30 seconds until fragrant. Add the mushrooms to the pan and cook for 5 minutes, until the mushrooms are soft and just starting to turn golden on the edges. Add in the miso, soy sauce, sake and oyster sauce and stir until well mixed. Combined the noodles with the mushrooms and toss together until the noodles covered with sauce.
Garnish with the remaining green onions and black sesame seeds and serve!
dinner, fusion, Mushroom, noodles, pasta, vegetarian, wild