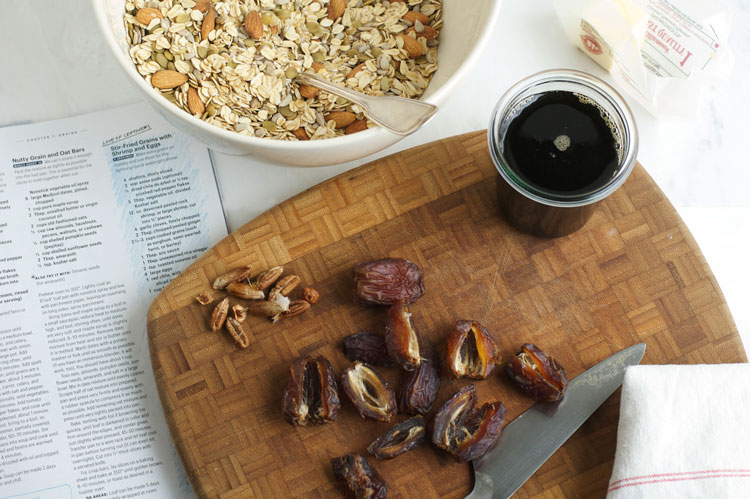 This is a story about breakfast, but not my breakfast. This is the breakfast I have been making for my husband ever since I spotted this recipe early this year in the January issue of Bon Appétit. First, I should tell you that I don't usually worry about making breakfast for anyone during the week. We are more of a fend-for-yourself household in the mornings. Sean has a coffee routine he follows with almost religious fervour. He doesn't deal in big productions, simplicity is the story of his morning. I prefer to take my breakfast to work to eat when I have a little more of an appetite. And I take a big enough bowl of fruits and grains to fill me up for the morning.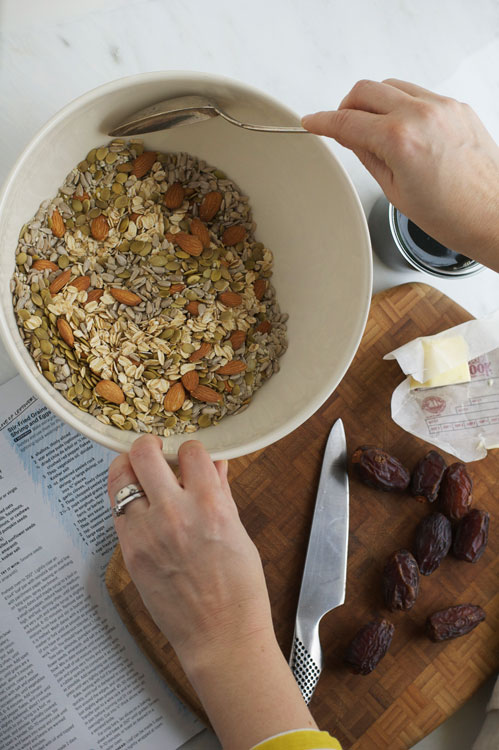 Enter this delicious oat bar. It is like a granola bar, only better and packed with oats, nuts and seeds. Mix and match ingredients to add in favorites or suit specific tastes. It is already gluten free, but can be vegan or nut free if needed. Bake up a loaf and prepare for a week of easy and portable breakfasts. We might not be eating breakfast together, but we have been baking this morning treat together just about every Sunday for the last several months.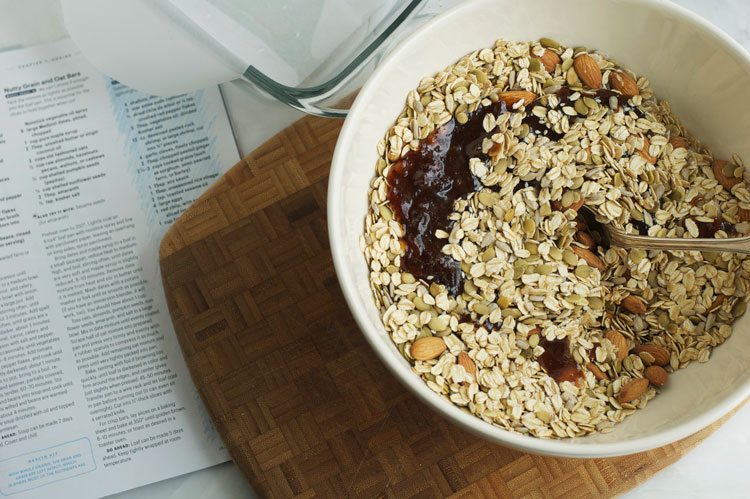 But don't limit this bar to just breakfast. It packed up perfectly for winter adventures for months around here. Paired with the sweetest winter citrus, it made for a great snack out in the snow. I can't help but think it will be equally at home packed up for a summer adventure or stashed away as a ready-made camping snack. Tuck a slice into the back pocket of a cycling jersey or feast on a quick bite after a run. And if dessert is needed, pair a slice with some ice cream or fresh fruit. There is not stopping this oat bar.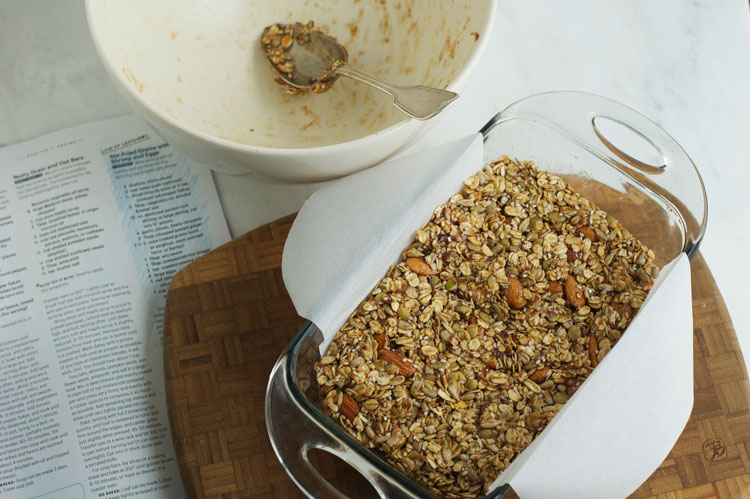 I feel like I must make mention of the dates in this recipe. Sean takes a pretty tough stance on dates, they just are not his favorite. So the first few times I made this recipe, I kept that little detail from him. Trickery in cookery? Why yes, sometimes we must all resort to it. And in this case it was a success. He now knows that there are dates in the bar, but still is a big fan. I hope you'll give them a shot!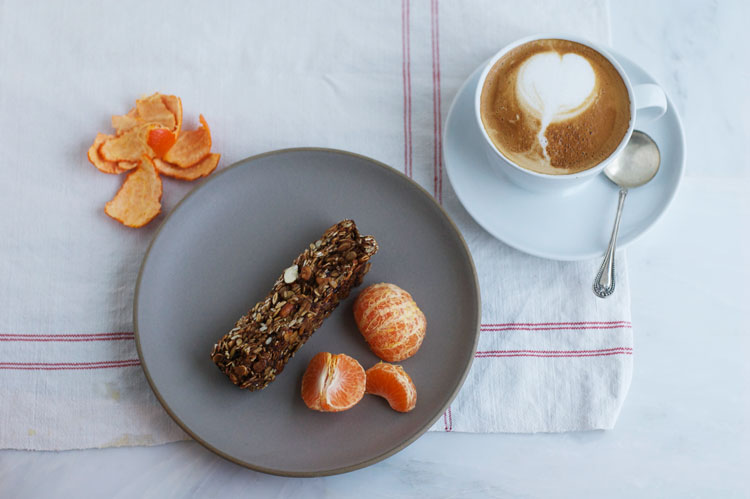 Breakfast Oat Bars
Adapted from Bon Appetit
Mix and match your favorite nuts and seeds in this bar. Swap out the almonds for walnuts, cashews or other favorites. Coconut also makes a tasty addition.
6 large Medjool dates, pitted and chopped
1 cup pure maple syrup
½ teaspoon salt
2 tablespoons unsalted butter or coconut oil
2 cups old-fashioned oats
½ cup almonds or other nuts
½ cup shelled sunflower seeds
½ cup pepitas
2 tablespoons sesame seeds
Lightly coat a glass loaf pan with oil, then line with parchment paper, leaving the edges out of the pan. (See picture above.) Heat oven to 350.
Combine dates, maple syrup and salt in a small saucepan and bring to a boil. Turn heat down to medium high and cook to soften, about 10 minutes, stirring often. Remove from heat and mash the dates until they combine into a thick paste. Add butter and stir to melt and combine. Set aside to cool for a minute or two.
Stir oats, almonds, sunflower seeds, pepitas and sesame seeds in a large bowl. Add the date mixture to the bowl and stir to evenly coat. Spoon mixture into prepared loaf pan. Tightly pack the oat mixture into the pan with a spatula. Bake for 40 to 45 minutes or until dark golden brown. Remove the pan from the oven and allow to cool for five minutes. Run a knife around the edges of the pan to ensure the bar does not stick as it cools. Transfer to a wire cooling rack and leave the loaf in its pan until it is cool, even overnight.
Wrap tightly and slice when ready to use. Keeps for a week of delicious snacks.