Winter Panzanella with Pancetta & Brussels Sprouts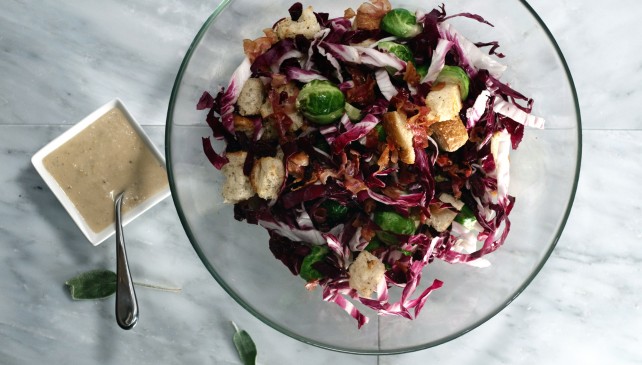 Would You Rather, have you played the game before? It is a game of comparison that we often play on road trips or a warm summers eve surrounding a campfire. Food is not the usual topic for Would Your Rather, but if it were, this is how it would go. Would you rather: a light, leafy, green salad or something stewed, steaming hot and smothered in sauce?
Here in Vancouver we are just coming out the other side of about 5 straight days of fog. No joke. Before that we had about 2 months of rain! Couple that with the fact that we are smack dabb in the middle of winter and the only thing that I want in my mouth is either braised, stewed, roasted, piping hot… you get my drift. Leafy greens aren't going to cut it right now and let's face it, they aren't at their prime right now. I am not a salad hater, I just don't want one that was cooked up in some hothouse and picked 4 weeks before it was ripe. Needless to say, a salad has to be some kinda wonderful to catch my eye.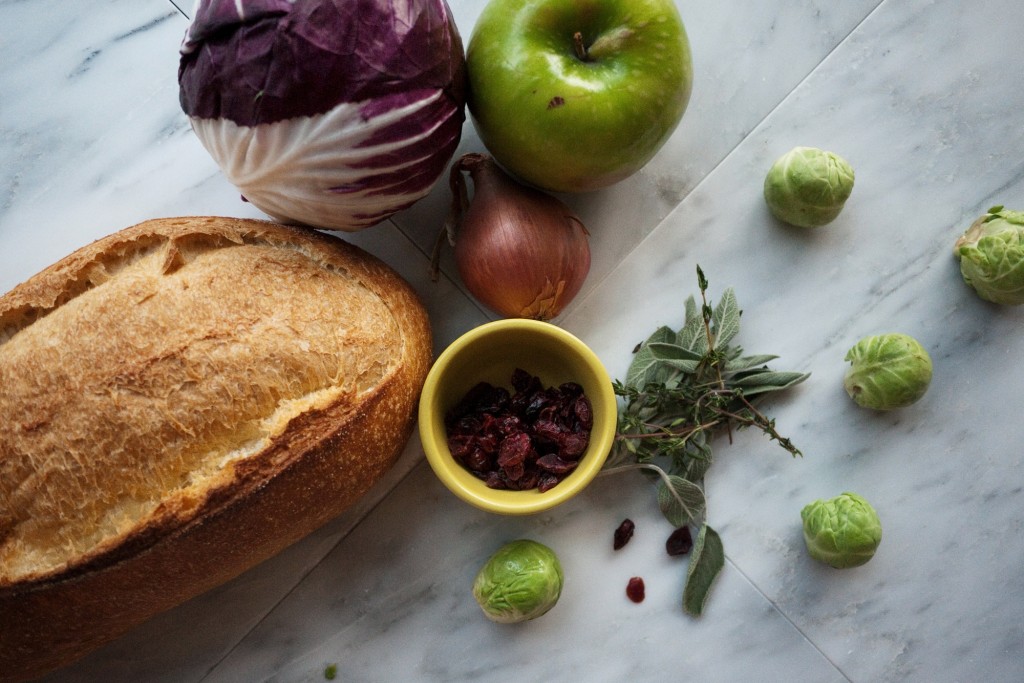 So what does this mythical salad look like? It has to have a little staying power, nothing too light and fluffy. Bold, full of flavour, crisp and finally it needs to feel like comfort food. I like to think of this salad as all the fix'ns from Christmas dinner brought together into a salad. A vivid, crunchy, salty and sweet winter panzanella salad hits all the right notes and leaves you feeling like you have just eaten a meal.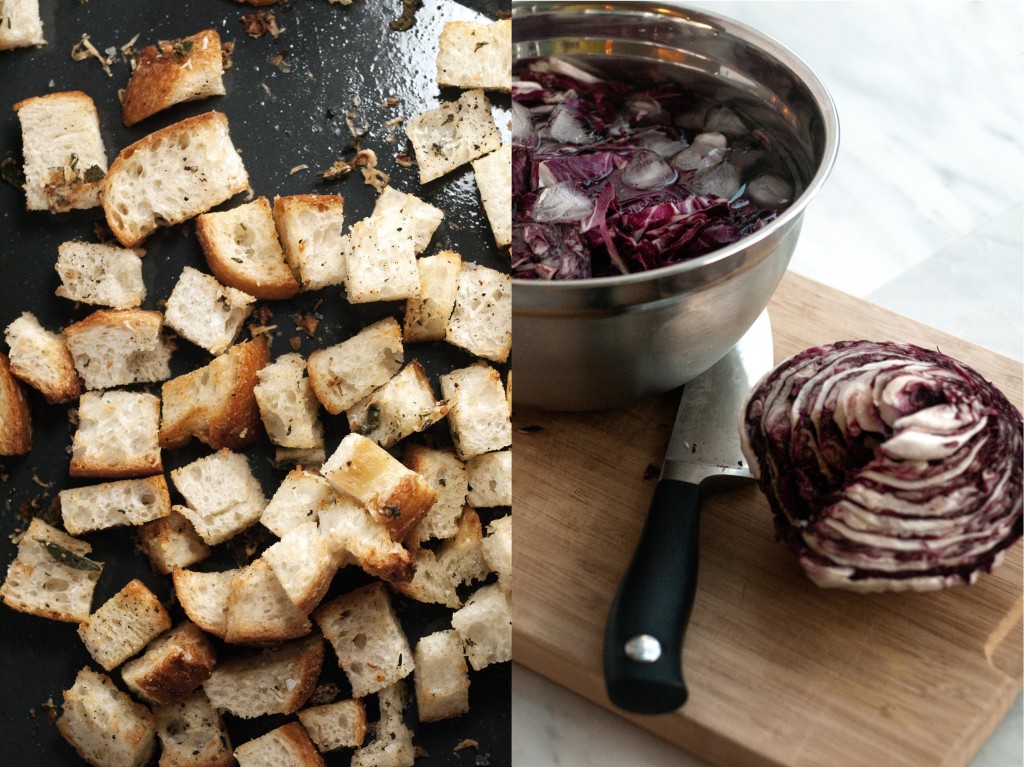 This is a very flexible salad. Every time I have made it I have tried different variation and loved them all the same. The original recipe calls for panettone or raisin challah, however, if you can't find any, switch it out for a nice french bread and 1/4 cup of  dried fruit, such as dried cranberries or raisins. If you don't happen to have a pomegranate on hand, try adding some additional dried cranberries. I would recommend putting in the extra effort to get your hands on one, as the little seeds bursting with juice are a real treat. My final motification was to the brussels sprouts preperation, I have a preference for roasted brussels sprouts but if you are interested in speeding things up a little you can dunk them into a pot of salted boiling water for about 7 minutes. However, speaking from experience don't skip soaking the radicchio in ice water. It helps to remove a little of the natural bitterness and leaves the radicchio crisp and plump. On a side note the recipe does half well. I like to prepare a full recipe of the apple vinaigrette and save half for a later dinner.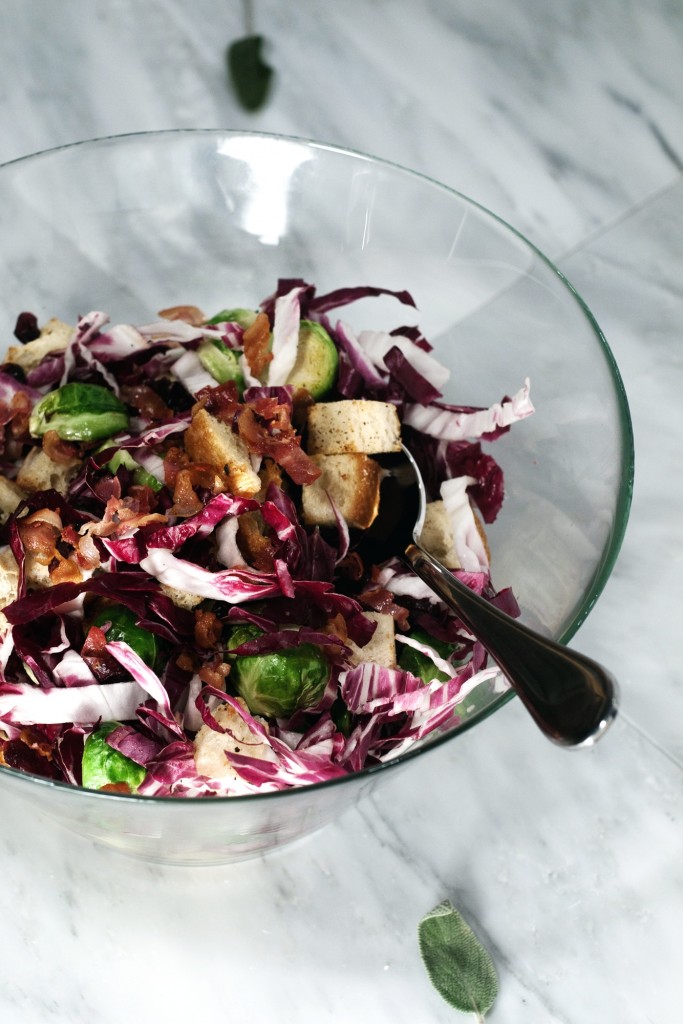 Winter Panzanella with Pancetta & Brussels Sprouts
Adapted from Bon Appetit (serves 8 as a side or 4–6 as a main)
Ingredients
Apple Vinaigrette:
2 tablespoons (1/4 stick) butter
1 Granny Smith apple cut into slices
1/2 cup extra-virgin olive oil
1/3 cup apple cider vinegar
1/4 cup finely chopped shallots
8 tablespoons (about) apple juice
Course sea salt
Fresh ground black pepper
Croutons:
9 cups 3/4-inch cubes French bread, panettone or raisin challah
1/4 cup butter
2 garlic cloves, finely chopped
1 tablespoon chopped fresh sage
2 teaspoons minced fresh thyme
6 tablespoons finely grated Parmesan cheese
Coarse sea salt
Fresh ground black pepper
Salad:
1 head of radicchio, halved, cored, thinly sliced
12 ounces 1/8-inch-thick slices pancetta, cut into 2×1/8-inch strips
1 pound small brussels sprouts, trimmed, halved lengthwise
Seeds from one fresh pomegranate (optional)
Dried cranberries (optional)
Coarse sea salt
Fresh ground black pepper
For the vinaigrette:
Heat a sauce pan over medium heat. Add butter and allow to melt, then add the apples. Sauté the apple over medium heat, stirring occasionally until they are golden brown and have softened throughout. Scrap the apples and all of the remaining pan juices into a blender and allow them to cool.
Once the apples have cooled add olive oil, apple cider vinegar and shallots and purée until smooth. Slowly add the apple cider a tablespoon at a time until vinaigrette reaches a desired thickness. Season with salt and pepper to taste and set aside.
For the croutons:
Preheat oven to 400F. Warm a small sauce pan, add butter and allow it to melt. Once the butter has melted add the garlic, sage and thyme and allow to cook for about a minute or until the herbs become fragrant but do not brown. Place bread into a large boil, evenly pour the butter mixture over the bread, tossing until all the cubes are evenly covered. Spread the cubes out onto a baking sheet, top with grated parmesan, salt and pepper. Place in the oven and bake for 6 minutes stirring occasionaly until the croutons are golden brown. Set aside and allow to cool.
For the salad
Place the halved brussels sprouts onto a baking sheet, lightly toss with salt and pepper and a little olive oil if you like. Place in the oven which is still heated to 400F and roast for 15-20 minutes turning about half way through the roasting time. Remove from oven and allow to cool. In the meantime saute the pancetta in a large pan until crispy and lightly browned. Remove from pan with a slotted spoon and allow to drain on a paper towel.
In a large salad bowl combine croutons, brussels sprouts and pancetta. Remove radicchio from its ice bath, drain thoroughly and add to salad bowl. Add vinaigrette to salad, mixing well. Top with pomegranate seed and dried cranberries if desired.
bread, Brussels sprouts, comfort food, dinner, pancetta, panzanella, salad, winter