Of grapes and cheese plates
Sometimes it seems like December gets all of the attention. Friends, holiday gatherings, traditions and delicious food. Once January rolls around, we might be resolute and hopeful facing the new year, but the same little incentives to get through another month of winter just aren't there. So, this month I have a mission—make January a little more exciting. I'm going to try to fit in some of the cooking, get-togethers and activities that just didn't make it into my pre-holiday schedule. And no, this doesn't fall into the new year resolutions category. I'm just trying to brightening up a grey month. Maybe in February I'll go back into hibernation mode!
Usually, when it comes to things like taking down the Christmas tree or other decorations, I'm a bit wistful. I'd like to see some of those bits of color and sparkle a little longer in the midst of winter. In the past, I've been pretty resourceful about turning Christmas decorations into a bright Valentine theme! But this year, I was ready to clean up and move on. It just seems to have been that kind of year for me. And since I've tidied things up and we won't be tracking pine needles around the house anymore, maybe it won't be such a bad idea to invite friends over to share a meal.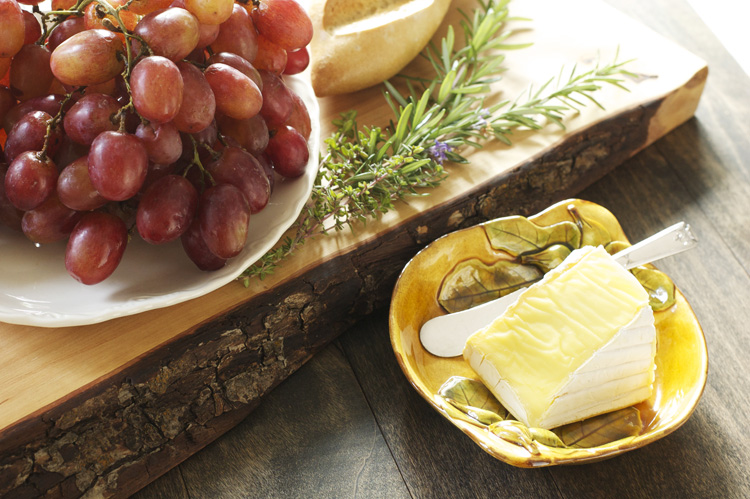 Getting back to new year resolutions, it seems that everyone has some kind of food resolution to start off the year. But it seems like most of those goals could be grouped into a wish to eat more healthy. Which is exactly what makes it a little easier to plan out a meal at this time of year. Make it a one-bowl meal with a pot of healthful and filling soup (maybe something a little bit like this or this), toss together a salad and dinner is served. And better still, make the soup in advance so a little reheating is all that's needed. Dinner on a weeknight is now a possibility!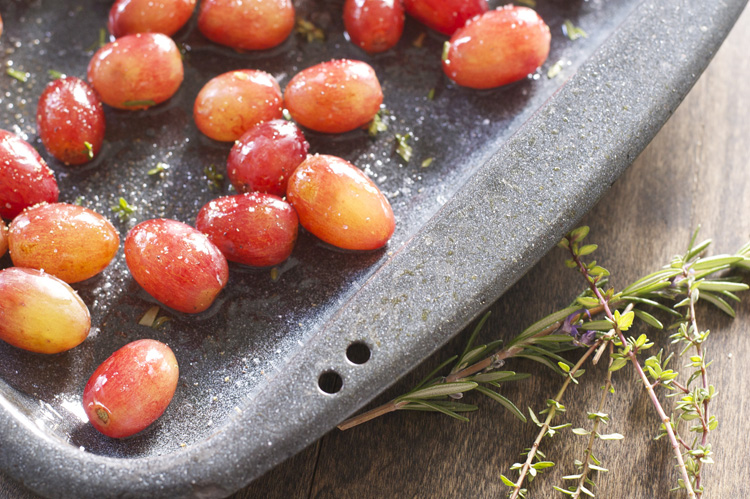 But to keep things fun, I still like to include an appetizer—something to whet the appetite and keep people happy while the last bit of dinner prep comes together. Or this could be an after-dinner cheese course as a sweet way to wrap up a meal. And really, there isn't much room to go wrong with a cheese plate. This recipe idea is simple and lets guests build their snacks to their specific taste.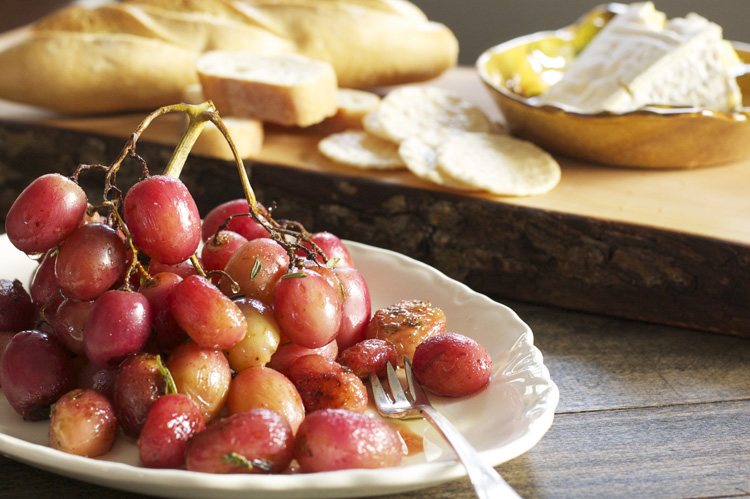 Serve these delicious grapes with a cheese plate and a selection of breads and crackers. Soft and spreadable cheeses are going to work best here, think creamy chèvre or an impossibly rich triple cream.
Roasted grapes
1 to 1 ½ pounds grapes, preferable a red or deeply colored seedless variety
Fresh herbs, I used thyme and chopped rosemary
Olive oil
Salt and fresh pepper
Preheat oven to 425°.
Rinse and sort grapes carefully, looking for any blemishes or soft fruit. Remove a portion of the grapes from their stems, but keep one nice cluster together for a pretty presentation. Place all of the grapes on a large, rimmed baking sheet. Generously cover the grapes with olive oil, sprinkle with fresh herbs and finish with a sprinkle of salt and freshly ground black pepper.
Roast grapes for about 10 minutes, stirring occasionally. The fruit will begin to caramelize, leaving a lovely grape-y syrup in the pan. Once grapes begin to soften, remove from oven. Arrange the large cluster of grapes on a platter and surround with the individual fruit. Serve warm or at room temperature.
appetizer, cheese, cooking, dinner, grapes, recipe