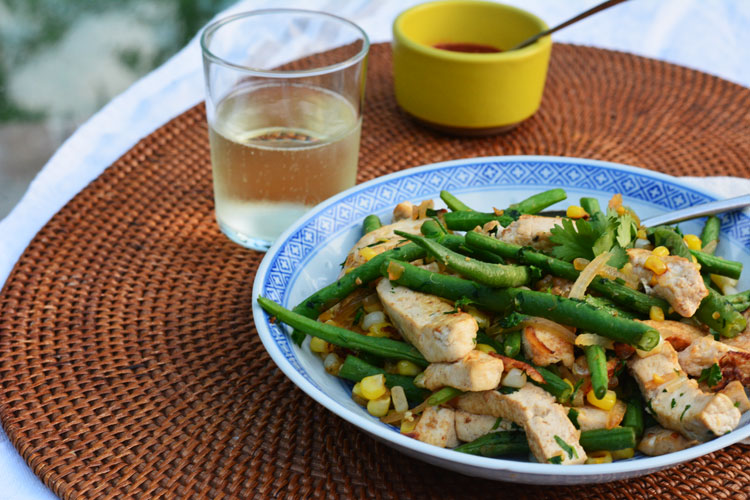 It's not everyday that I find a recipe that inspires me to make it immediately. Just like everyone else, I've got stacks and bookmarks and torn out magazine pages, waiting for their moment to shine. Unless that recipe is the salted Texas chocolate sheet cake from Bon Appetit, that demands immediate attention. (True story!) Anyway, there is often something keeping me from making them, some missing key ingredient or prep step that seems better suited to a weekend cooking foray. Maybe I am a collector or recipes, a hoarder even? That might be a topic for another day, but in this case, I had the perfect combination of enough of the right ingredients and some time, so I started cooking.
Without even knowing it, I started prepping for this recipe by heading out to my favorite fresh veggie place earlier in the day. Their late season corn is such a treat, and they had it sitting around by the bucket. By now, I have a pretty good idea of just how much corn I can fit in the produce drawer in my fridge, so I loaded up, knowing I would be eating fresh corn for the next few days. I don't know how the corn and the recipe found me on the same day, but I'm not asking any questions!
I made this for a solo dinner by splitting the recipe, but whether you're cooking for yourself or a few people, this stir-fry comes together pretty quickly and has great late summer flavors. And while I know the sambal oelek and fresh lime juice I squeezed on top of my plate might not have been exactly in keeping with the originally intended flavors of this recipe, I thought they were pretty darn good additions!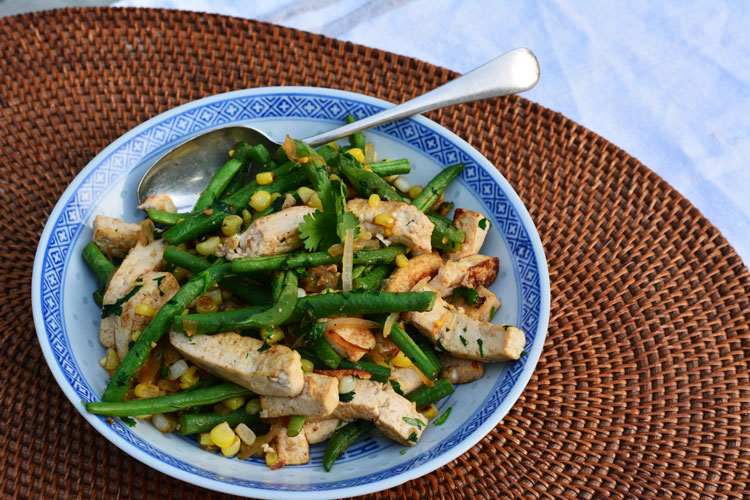 Stir-Fried Tofu with Green Beans and Corn
 Adapted from Martha Rose Shulman's recipe on The New York Times
1 14 oz. package of firm tofu, drained
1 tablespoon soy sauce
1 tablespoon Shao Hsing rice wine or dry sherry
2 teaspoons sesame oil
½ teaspoon salt, or to taste
½ teaspoon ground pepper, preferable white pepper
¼ teaspoon sugar
2 tablespoons canola oil
1 tablespoon minced ginger
1 jalapeno, seeded and minced
½ pound green beans, trimmed and cut into bite sized pieces
Kernels from 2 ears of corn
1 finely sliced scallion
1 cup roughly chopped cilantro
 Cut the tofu into ¼ inch slices, then cut slices into ¼ inch matchsticks. Place on a clean towel or paper towel and allow to drain while you prep the rest of the stirfry.
In a small bowl, combine soy sauce, rice wine or sherry, and the sesame oil. Combine the salt, pepper and sugar in another small bowl. Keep these handy for when you begin cooking.
Bring a medium saucepan of salted water to a boil and add the green beans, blanching for about one minute. Remove from heat, rinse in cold water, drain and set aside.
Heat a large skillet or wok over high heat until a drop of water evaporates immediately. Add a tablespoon of oil to the pan and tilt to distribute. Add the tofu and stir-fry for a minute or two, until it just begins to color. Drop in the ginger and jalapeno and stir-fry for a few seconds.
Pour in the remaining oil, then add the green beans, corn and scallions. Stir-fry for about one minute, then add the salt, pepper and sugar mixture and toss for good measure. Pour in the soy mixture, top with a lid and cook for about 30 seconds. Uncover, throw in the cilantro and stir-fry for another 30 seconds or so. The green beans should be crisp tender by now. Remove from heat and serve.