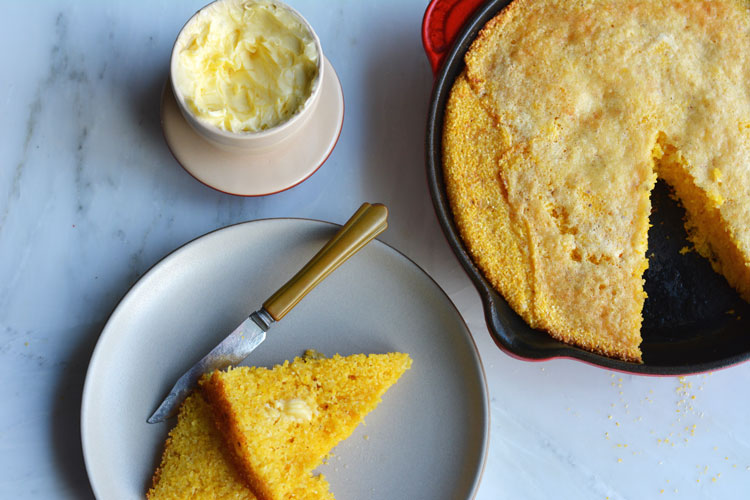 Last week, snow fell. It was a skiff, really, but with the dip in temperatures that accompanied it, that little dusting has managed to stay around all week. When the weather is cold and it is dark before I head home in the evenings, I feel like an extra measure of comfort is needed. I know I must have told you that when autumn comes around, my plans for cooking seem to make a turn all on their own. Suddenly, soup sounds like a good idea and I make at least one pot per weekend. One giant pot that simmers for hours on the weekend, then is doled out into quart jars in preparation for the week ahead. And as this ritual repeats itself over the first weeks of fall, my freezer fills up with lunch options. Corn chowder, red lentil and cream of cauliflower, portioned out and ready for a quick meal.
If I am going to have soup for dinner, I like to pair it with a salad or some bread. Hot buttered slices of toast work well, as do savory little muffins. But really, what I want most with my soup is a skillet of cornbread. For one thing, once the oven is turned on in the evening, the kitchen just feels that much more cozy. And this recipe is quick enough that by the time the soup is warmed up and the table set, there is cornbread ready to come out of the oven. Around here, we top it with some butter and perhaps a slice of cheese. We're a divided house when it comes to a sweet topping though, but a drizzle of maple syrup always wins out for me.
This recipe came to me a few years ago when Tina shared it as an idea for a gluten-free quick bread. I've been making it several times a week already this season. In fact, it's so good that I may have made it several nights in a row when my parents visited us. The three of us don't eat the whole pan, but I like to toast the leftovers the next morning with a hard boiled egg, or make open-face sandwiches with more soup at lunch. And with Thanksgiving just around the corner, I couldn't help but think that leftovers would make a tasty stuffing come next week.
Recipe note: In my opinion, the main ingredient to watch is the cornmeal. Don't be lulled into thinking any old grind will work. Stone-ground cornmeal gives a much better texture and bite to the cornbread. And meal that's labelled for grits works really well, in my experience.
Skillet Cornbread
Recipe from Gourmet
1 1/2 cups yellow cornmeal (preferably stone-ground)
1 tablespoon sugar
3/4 teaspoon baking soda
1/2 teaspoon salt
2 large eggs
1 3/4 cups well-shaken buttermilk (do not use powdered)
1/2 stick unsalted butter
Preheat oven to 425°F with the rack in the middle. Heat a well-seasoned 10-inch skillet in the oven for about 10 minutes.
Meanwhile stir together the cornmeal, sugar, baking soda and salt in medium bowl. Whisk together eggs together in a small bowl and measure buttermilk in a large measuring cup.
Remove the now hot skillet from oven, taking care as the handle will be very hot. Add butter and return to the oven for about five minutes to melt. When the butter is melted, remove the skillet from the oven, swirling to coat bottom and sides (butter may brown and it's delicious). Whisk hot butter into the buttermilk mixture and return skillet to oven. Stir cornmeal mixture into buttermilk mixture just until evenly moistened but still lumpy.