A salad for early spring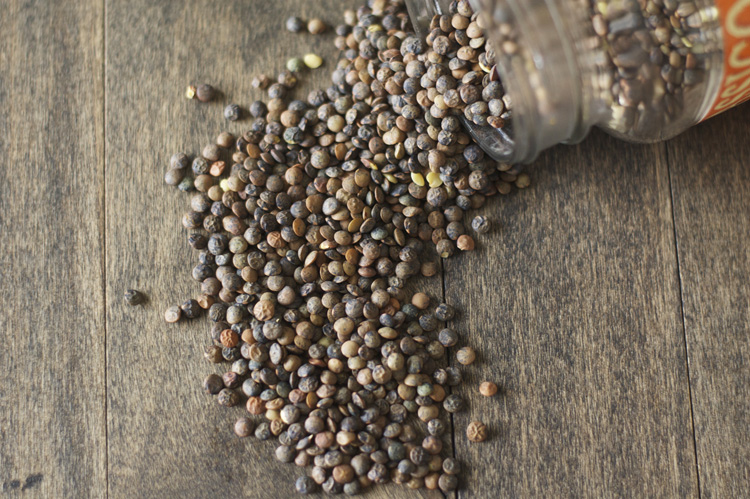 A new month is upon us. March is here and there isn't any time to look back. The days of February went flying by in a greyish blur—how did that happen? One thing I really appreciated at the beginning of February was Tina's post on pausing for a moment. It reminded me to take stock of where I was and where I wanted to be. I have this good-intentioned list of things I want to make a priority in my day. Some days it is harder than others to focus on those things. But taking the time to acknowledge that I may have slipped on some of those items is an act of faith that I can right that wrong. And that if those things are still a priority, I can bring them back into focus. I'm kind of loving that idea of restarting with each month.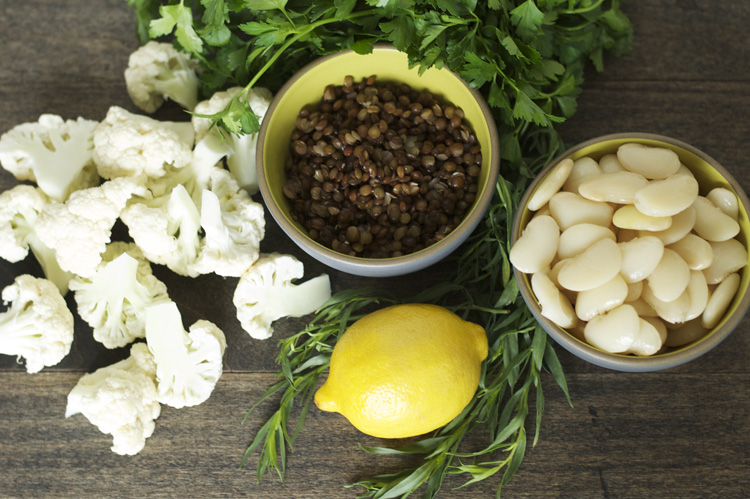 Cooking gives me a similar opportunity to restart with any meal. There is always room to keep learning and reworking ideas with my next meal no more than a few hours off. Things don't have to stay the same. Which brings me to the cauliflower…
I've been stuck in a bit of a cauliflower rut. Don't get me wrong, it's been a tasty place to be and I've been quite happy here! For me, cauliflower has been a surprise vegetable. For many years, I just ignored it, thinking I had no real interest in it. But all of that changed when I figured out that tossing the florets in a little olive oil and salt, plus a hot oven, created something entirely different. Given over to the high heat, the cauliflower sizzles and spits and in short order develops a golden crunch that is like nothing that ever came out of the steamer. Prepared this way, I think I could eat cauliflower for days.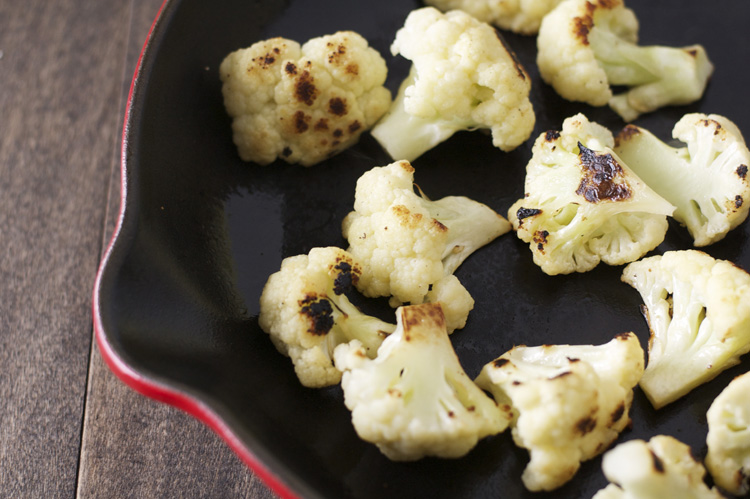 But back to the preparation of the cauliflower, I was reading a recipe for a salad—a hearty dish that seemed like it would be a perfect one-dish meal—when the listed method stopped me in my tracks. Cauliflower, in a skillet—no more need for a roasting pan or high heat oven. I couldn't wait to try it out. And just like that, I was starting fresh. There is still hope…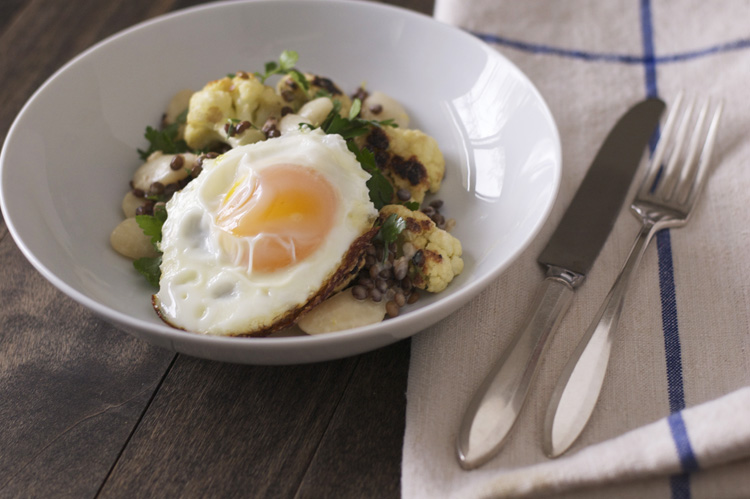 This salad's bright lemony dressing revives my taste buds while I await the arrival of some fresh spring produce. It sits amazingly well, so packing it up for a little al fresco lunch is a great idea. And leftovers are still delicious the next day. I'm big on the idea of a one-bowl lunch, so the addition of a fried or poached eggs really fills out the meal for me.
Warm cauliflower salad
Adapted from Bon Appétit's recipe here
Serves 2
¼ cup Pardina lentils, sorted and rinsed
1 tablespoon mayonnaise
1 tablespoon lemon zest
2 tablespoons lemon juice
1 tablespoon white wine vinegar
1 teaspoon Dijon mustard
4 tablespoons olive oil, divided
½ head cauliflower, divided into florets
7 oz. gigante or butter beans, about ½ can, rinsed and drained
¹⁄3 cup flat Italian parsley leaves, washed
1 tablespoon French tarragon, finely chopped
2 eggs, cooked to your preference
Place lentils in a small pot and cover generously with water. Season with salt. Bring water to a boil, then turn the heat to medium. Let lentils simmer until just tender, about 20 minutes. Drain lentils and rinse in cold water. Set aside.
To make dressing, combine mayonnaise, lemon zest and juice, white wine vinegar, Dijon mustard and 3 tablespoons olive oil. Whisk to combine. Add salt and pepper to taste. Set aside.
Heat remaining tablespoon of olive oil in a medium skillet over medium-high heat. Add cauliflower florets and cook until they begin to brown, about 6 minutes. Add a tablespoon or two of water to the pan, cover with a lid and allow to steam for 2 minutes.
Place cauliflower, beans, lentils, parsley and tarragon in a bowl. Toss gently with dressing to coat and add more salt and pepper, if needed. Garnish with a little parsley and top with a warm egg, if desired.
cauliflower, goals, lentils, one-bowl meal, salad