Birthday girl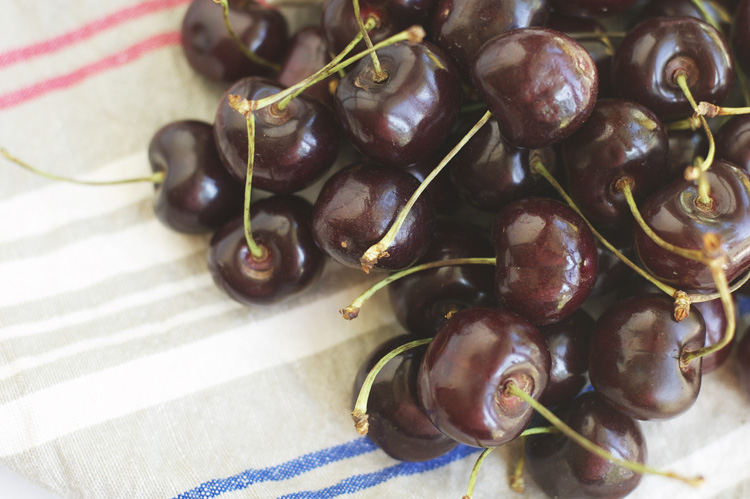 In my memory, there is a cherry tree in the backyard of my grandmother's house. It is taller than the house and shades the back bedroom, where I often sleep when I visit. On the sticky hot summer evenings when we throw the windows wide, I can hear the breeze ruffling the leaves, lulling me to sleep. Its sturdy, spreading branches make this cherry tree more inviting to climb than the peach trees further down the yard.
With a cherry tree, it seems that you could pull your way up into the tree with little effort and vanish among the thick green leaves, finding a comfortable perch and your own personal cherry picking heaven. And while I don't often take to climbing other people's trees out in the picking orchards these days, I do love that experience of climbing deep into the tree on a towering ladder. Suddenly, you are surrounded by drooping branches of sweet fruit, sometimes sticky from the bees and birds that call these havens their own. I favor the clumps of heavy fruit that come off in long, elegant, stemmed pairs, nature's tasty version of a 2-for-1 deal.
Last week, I mentioned I was working on a recipe for clafoutis. You've heard about clafoutis, right? It is a flan-like dessert, often served slightly warm, that is usually overflowing with cherries. (OK, maybe the overflowing part is more me than anything else!) Eaten as a dessert, or maybe even a tasty breakfast treat, the custardy filling is perfectly at home with seasonal fruit. And while cherries are the traditional filling, the batter takes well to almost any fruit. And once you've tasted it for yourself, you will likely find reasons to adapt it to raspberries, blueberries, pears and more.
I don't generally make clafoutis year round. I seem to play with it a few times every season right about now as the cherries start to pile up in my fridge. There is something about cherry season that does not let me pass by the darkly glinting heaps of the black-red fruit that I find at farmers markets or roadside stands. Surely I can find a use for a few more pounds? A month or so ago, I got a pretty baking dish with deeply fluted sides, that claims to be a clafoutis mold. With that one mention, I jumped right back into clafoutis production like I'd never missed a beat. And while I've always made this dish in a cast iron skillet or even a pie dish, this pan makes for a pretty presentation, even if it is a little tricky to serve.
The thing with this pan is that is a little smaller capacity than what seems to be typical for most clafoutis recipes. So I've been tweaking, trying to find the perfect portions for a smaller crowd. I've also been playing with other flour combinations to find a good gluten-free variation, but I'll have to save that for another day. I think this recipe will nicely serve four for dessert. You can use a pan with about a 6-cup capacity, or a 9-inch pie plate or skillet. See, we aren't picky here!
And don't let the fact that it is cherry season fool you—this dessert is really for Tina, who will be celebrating a birthday in a few days. An undying fan of Okanagan cherries and a true connoisseur of the flan, I am sure this recipe will be just the thing for your special day. I'm sorry I can't make you a piece this year.
While there is some debated as to whether cherry clafoutis should be prepared with whole or pitted cherries, I'll leave that decision to you. I can't often be bothered with the pitting, but I don't really relish the thought of someone breaking a tooth under my watch. In the meantime, I've included a few drops of almond extract to add a little more flavor, no matter which way you go!
Cherry Clafoutis
Serves 4 as dessert, 2 as breakfast
¼ cup (40 grams) all-purpose flour
¾ cup milk
¼ cup (55 grams) sugar
2 eggs, lightly beaten
2 teaspoons vanilla
pinch of salt
a couple of drops almond extract, optional
2 cups (350 grams) pitted cherries
Heat oven to 350. In a large mixing bowl, measure flour. Slowly add milk to flour, whisking constantly. Beat hard to remove lumps. Add sugar, eggs, vanilla, salt and almond extract, if using. Mix well to combine.
Butter a 9-inch pan generously. Add cherries to bottom of pan and spread evenly. Pour batter on top of cherries. Place in the middle of the oven and cook for about 45 minutes, until the top is golden and puffy. The very middle of the clafoutis will still be a little wobbly when you gently shake the pan.
Allow the clafoutis to cool for about 30 minutes. Slice and sprinkle with a little icing sugar, or serve with freshly whipped cream.
birthday, Clafoutis, dessert, memory, seasonal, summer