The Potatoes You Need to Know About…
I can turn down a baked potato any day, but a potato baked in butter is another matter entirely. Make that a crispy stack of thinly sliced potatoes, scented with thyme, sprinkled with coarse salt and pepper and suddenly I'm rummaging through my potato bin looking for supplies!
True, I am not a potato fanatic most of the time. The main exception to that rule is early summer when the season's first potatoes start showing up at the local farmers market. I sort through the baskets, looking for the smallest tubers to bring home for dinner. With new potatoes, the simplest preparations win my heart every time. But in the dead of winter, potatoes need a little help making it onto my menu. Mashed potatoes make a few seasonal appearances on our table. Sometimes they'll show up in a soup or curry but not much else. But not so long ago, I saw a lovely little recipe by Molly Stevens on Bon Appetit. Cue the lovely, layered and crispy mini Pommes Anna. And let the potato rummaging begin.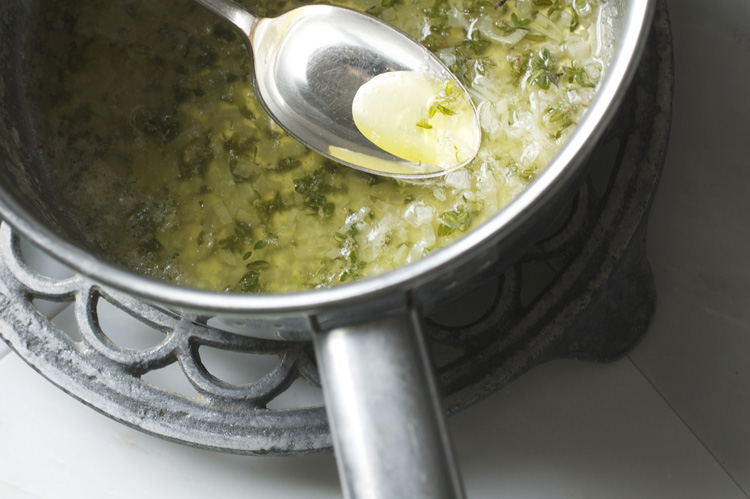 Aside from the crispy bits of potato, which I will admit I do have a love of, these potatoes feature thyme. Thyme might even be the star of this recipe. Wispy little sprigs adorn the stacks of potatoes, as well as flavoring the butter. Thyme's subtile earthy flavor seems to go with everything right now. Squash, sure. Anything with melted cheese? Yes, please. I can't help myself from adding it to most anything I might be baking this winter. My poor little plant is barely keeping up with demand.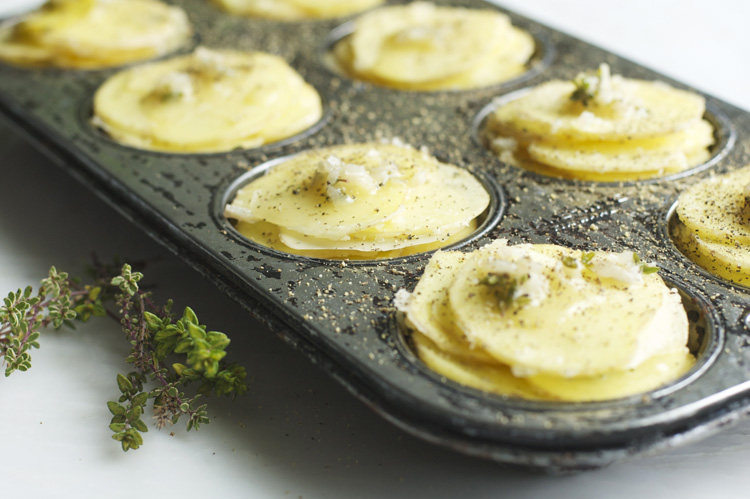 The classic French dish, Pommes Anna, is usually a larger cake that is sliced into pieces before serving. And it doesn't get all fancy with the addition of herbs. But I loved the individual feel of these little stacks, which makes for a little more fussing while baking, but a lovely presentation at the table. And truth be told, these little bundles do pack a fair bit more crunch per serving!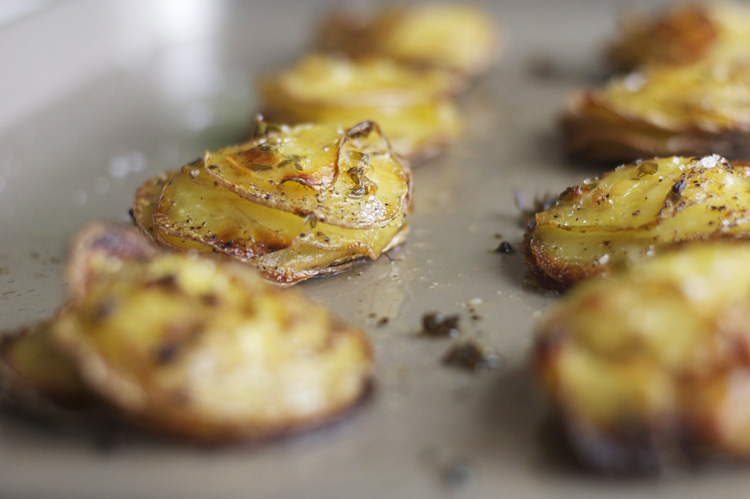 A few notes: The key to success in this recipe comes down to equipment. A mandoline will slice the potatoes perfectly so arranging them in the pan is easy and pretty. It's also helpful to choose small potatoes. I just went with stock on hand, but I think a little smaller potato would have looked nicer. And please don't save these delicious bundles up for a special dinner, I loved them heated up and served with Sunday brunch.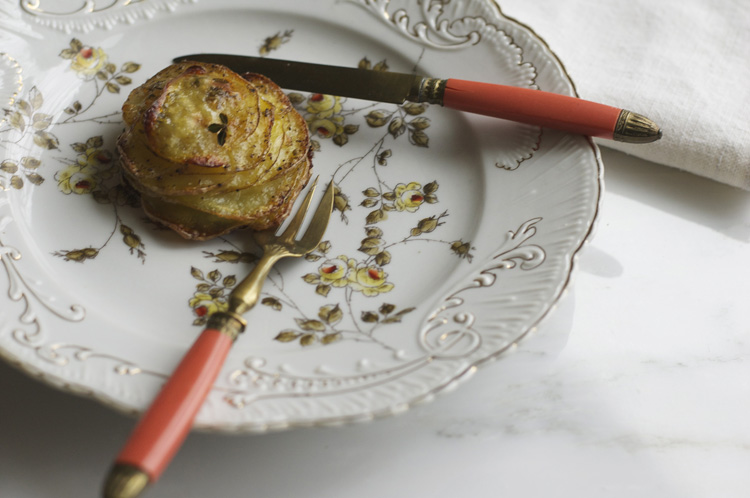 Mini Pommes Anna with Thyme
Adapted from Molly Stevens recipe on Bon Appetit
1/2 cup (1 stick) unsalted butter
12-24 small thyme sprigs plus 2 teaspoons leaves
1 small shallot, chopped finely
1 1/2 to 1 3/4 pounds small waxy potatoes (such as Yukon Gold), the smaller the better
2 teaspoons kosher salt, plus more for sprinkling
Freshly ground black pepper
Preheat oven to 350°. Melt butter in a small saucepan over medium heat. Generously brush muffin cups with butter. Line the bottom of each cup with parchment-paper rounds.
Arrange a couple small sprigs of thyme in the center of each round of paper. Drizzle a little butter into bottom of each cup.
Add thyme and shallots to remaining butter in saucepan. Cook over medium heat for a couple of minutes until you can smell the herbs.Remove from heat.
Using a mandoline, slice potatoes into very thin rounds and place them in a bowl, discarding the ends of the potato. Pour the herb butter over the potatoes and season with salt and pepper. Gently toss the potatoes to coat. Divide slices among muffin cups, building overlapping layers in a circular pattern. Gently press the center of each stack to compact and don't be afraid to continue a little above the rim of each cup. They do shrink when they are baked. Drizzle any remaining butter and seasoning from bowl over the potatoes. Cover the pan tightly with foil and bake until potatoes can be pierced easily with a toothpick or knife, about 35 minutes.
Remove foil and place a rimmed baking sheet upside down on top of the muffin tin. Carefully turn both pans over so the potatoes fall onto the baking sheet. Lightly tap the pan on the counter if needed to release the potatoes. Rearrange any slices that may have some loose. Using a metal spatula, carefully turn cakes so the thyme sprigs face down. Discard parchment. You can do this in advance, covering and chilling the potatoes for one day.
Increase heat to 425°. Uncover cakes if prepared in advance. Bake until bottoms and edges are golden and crispy, about 20 to 25 minutes. Check frequently as they can darken quickly. Carefully turn potatoes so the thyme sprigs facing up. Sprinkle with a little more salt and pepper, if desired. Serve warm.
butter, dinner, gluten-free, potatoes, thyme